Chimney Sweep Services
---
CSIA Certified Chimney Sweep & Dryer Vent Cleaning Services
In Austin, Dallas, & Fort Worth Texas
 1st Choice Chimney carries the highest 
CSIA Certification
 & 
Classification
 in the Chimney & Dryer Vent Industry.  Years of professional training, experience & proven hard work has earned 1st Choice Chimney the top industry standard. Look up our technicians 
here
 to see their certification.  1st Choice Chimney carries $2 million in liability insurance & workman's compensation coverage.  We provide a 30-day warranty on all labor from the day the work is completed.
NOTE:  Do Not entrust your families life & safety to a chimney company who is not CSIA CERTIFIED or insured up to $2 Million.  Have them prove it by clicking here
---
DISCOUNTS:
Fall Special $149 – Level 1 – CSIA Chimney Sweep & Color Video Inspection of Chimney System ($289 Value!)
*Fall Special $149 – CSIA Dryer-Vent Cleaning & Inspection
*** If you have 2 or more services at the same time, we'll take $10 off each service. ***
NOTE: If our video inspection camera cannot fit through your damper to view your flue, we'll take $15 off the normal price
OUT OF SERVICE AREA JOBS
***SPECIAL NOTE:  All Out Of Service Area Jobs Pricing increases do to travel time & fuel.  50% Deposit required and $99 PER HOUR ADDITION Will be charged. This will be agreed upon before appointment is scheduled.
CSIA CERTIFIED CHIMNEY LEVELS, DEGREES OF SWEEP & INSPECTION
Level 1 | $149
CSIA Certified Chimney Sweep & Inspection – Complete soot removal from firebox, refractory panels, masonry brick, grate, fireback, smoke shelf, damper, flue, and visual inspection from ground.
Level 2 | $289
CSIA Certified Chimney Sweep & Inspection – ROOF ACCESS – Color Video Camera, Roof Flashing, Chimney Chase, Siding, Cap Inspection, Spark Arrestor, Termination, Cricket, Attic.
Level 3 | $450 – $1500
Creosote Removal – ROOF ACCESS – Video Camera, Creo Chemical Treatment, Curing, Chain Removal
Consultation:
We provide a complimentary consultation over the phone & email with our technicians on complex installations after hours.
Chimney Cleaning Services:
Since the 19th century, the process of having a chimney swept has progressed. It is now clean, quick and efficient. All chimneys should be swept at least once a year. Heavy use of a wood or coal burning appliance will require more frequent sweeping, approximately every six months.
You need to remove deposits from the lining of your chimney to clear and prevent any blockages. This will ensure the there are no poisonous gases released by the fire entering your room.
At 1st Choice Chimney, we pride ourselves on offering the best possible levels of service, cleanliness, and punctuality. We provide these services in many areas surrounding Austin, Dallas, and Fort-Worth, Texas.
In addition to a thorough inspection of your entire wood burning system, we remove soot and dangerous creosote from inside your chimney with a complete top-to-bottom cleaning that includes: the fireplace, damper, smoke shelf, smoke chamber, and chimney flue. Our hepa-filtered dust collector vacuum keeps your home completely free of dust and soot during this procedure.
3rd-degree glazed creosote is the most flammable type of creosote and cannot be removed using standard wire chimney brushes. For this, we use industry standard equipment to return your chimney to a clean and safe condition.
When shopping for a chimney sweep, remember that "You always get what you pay for."
There are many chimney cleaning companies in the area, each offering their services for half the going rate. Often, these companies send out unqualified personnel who have not received proper training in chimney cleaning and inspection.
Also, these cut-rate chimney cleaning companies often do not take the time needed to do the job properly, moving from house-to-house quickly in order to offset their low prices. They will often neglect to clean critical areas directly above the damper, such as the smoke shelf and smoke chamber, during the process — leaving your wood burning system a fire hazard.
Do you really want to let an unqualified company into your home just so you can save a few dollars? Please remember that this is all about fire safety.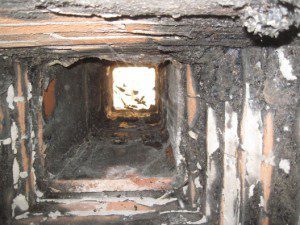 1st Choice Chimney Sweep offers a wide variety of chimney and fireplace products and services to accommodate all your Installation, Restoration, and Maintenance needs. Simply put, our professional staff provides the very best chimney care available.
The pride we take in our craft is reflected in the quality of our workmanship. When you contact 1st Choice Chimney Sweeps, you are assured fast, reliable service performed in a friendly and courteous manner. Our company is fully insured, with a $2 million liability & workman compensation policy for your protection. We also follow the guidelines set forth by the Chimney Safety Institute of America for all chimney installation, cleaning, and inspections.
Check for fireplace measurements using our helpful guide.